You may have already heard, but in case you missed it, Pantone's 2019 color of the year is Living Coral (#FA7268)!  Living Coral is a cheery statement color that will draw the attention of your viewers. So there are some things to look out for when implementing it in your designs. Here are some practical suggestions for implementing this year's hot color trend.
Living Coral: What Works

Variations inside the color family
Coral is a marriage of orange and pink. If you stick to this warm spectrum in between red and orange and vary the values, the warmth of the tones should naturally work together.
When someone says "monochromatic," you may instantly think of a grayscale color palette – from black to white. However, in color terms, a monochromatic color scheme is achieved by using any base color and progressively adding either black or white shades to it. When you pair a monochromatic palette with Living Coral, you help it to shine as an accent pop of color.
Off-whites and undertones
Off-whites and neutrals are in style for 2019. If you want a fresh, modern look for your graphic design, try adding subtle undertones to a neutral palette and using Living Coral as the bold statement color it deserves to be. Cool neutral tones are especially recommended because the slight contrast in color temperature will help the Living Coral to pop even more.
Living Coral: What Doesn't Work

Try to avoid pairing Living Coral with other bright hues that compete for dominance. Though the look is certainly eye-catching, it can easily come across as tacky. Unless this overly-vibrant look is intentional for your brand, play it safe. Attract the viewer in a subtle, appealing way rather than have the colors yell for attention…especially if you are opting for a professional look.
The use of colors with similar saturations can cause a muddy-looking palette that is not appealing to the eye. Make sure that you choose one color to especially stand out in your palette, and have the other colors support it – by contrasting it in either shade, hue, or value.
Pairing Living Coral with neon colors can decrease its perceived value. When side-by-side with neon values, Living Coral's saturation can seem almost gray in comparison. The use of one neon (perhaps as a statement color) is not necessarily a bad idea, but pairing Living Coral with several will almost certainly steal its thunder.
As a more design-related note, try to stay away from using Living Coral primarily as a page backdrop or font color. Its saturation can make your content difficult to read. Using it as an accent or pop is a much more effective solution to capture your reader's attention. Remember, less is more.

How to Use Living Coral in Your Graphic Design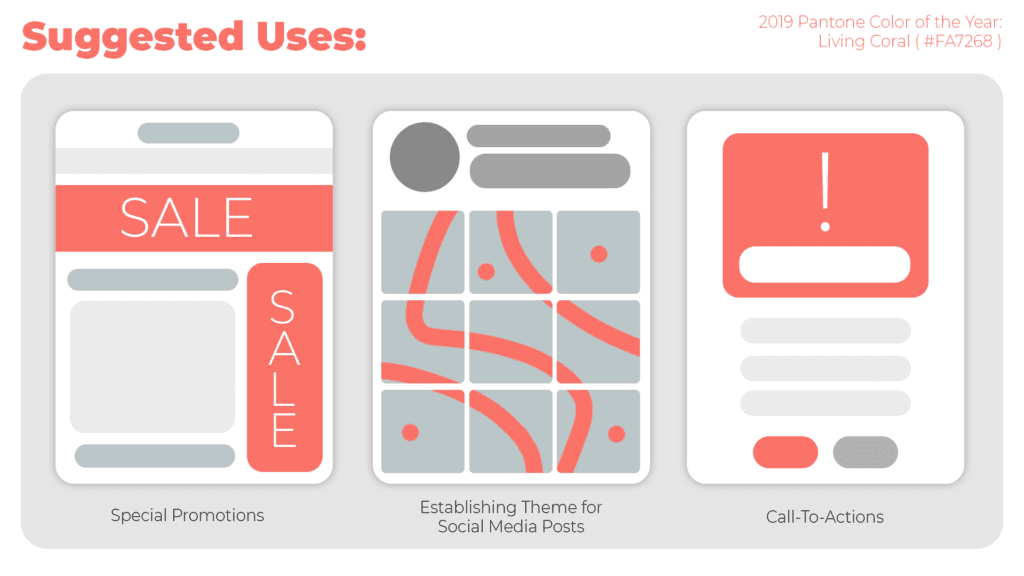 Due to its significance as 2019's Color of the Year, one great idea is to incorporate Living Coral as a theme color in your business promotions (like Google Ads) all throughout the year!
Try to incorporate the color into your social media posts. That way, consumers can subconsciously identify an active promotion from an expired or out-of-season one.
Living Coral is a natural statement color. You can embrace its power by incorporating it into graphic elements that typically demand attention, such as headers, banners, pop-ups, bold statement text, or CTA buttons.
Winning Graphic Design with Living Coral
In summary, Living Coral is a warm statement color that, when used correctly, brings a sense of fun and modernism to your designs. The safest way to play responsibly with Living Coral is by pairing it with neutrals and cool undertones. Staying in its own color family is also a safe option to create a harmonious design. And, if you want a bolder look, try pairing Living Coral with a monochrome palette to use it as a statement color.
So embrace the moment and have fun with your graphic design this year with Living Coral!
Have more questions about making your digital marketing a success? We'd love to talk with you. Fill out the form and a member of the team will be in touch.