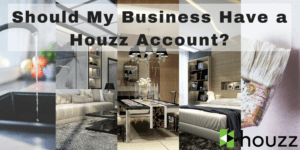 With so many social media and marketing platforms on the Internet, it's hard to know the ones that are worth your valuable time. Houzz may seem like just another platform, but if you're in the housing, design, or architecture fields, having a profile on Houzz is to your benefit.
Let's learn what Houzz actually is, who it's for and decide together whether or not you need to utilize Houzz for your business.
What is Houzz?
Called 'the Wikipedia of interior and exterior design sites' by CNN and 'the online equivalent of clipping décor magazine images' by Real Simple, Houzz has quickly become a place for customers and designers to gain inspiration from each other and build community together.
Whether you're an interior designer, decorator, landscaper, architect or just love all things home, Houzz is a place for you to profile your business, showcase your work and be seen as an expert in your industry. The platform also features articles written by industry professionals and trendsetters.
More than just a 'Pinterest for houses,' Houzz is an online professional directory for homeowners to find and connect with home-improvement professionals.
Who Uses It?
There are two groups who use Houzz – professionals and homeowners. Whether they're remodeling, redecorating, or building a new house, homeowners can save images in ideabooks and see the latest trends in the industry. Not only that, but they can also see the professionals behind their dream rooms and connect with them personally.
If you're an industry professional, Houzz is a way to profile your latest work, showcase key projects and continue to get your name out to people searching for professionals in the field. As a home professional, potential clients can see your style and connect with you to recreate their dream spaces.
Your profile on Houzz is an opportunity to build your brand and your portfolio with a whole new audience – people all over the world will be able to see your work.
Should My Business Have a Houzz Account?
If your business is in the home improvement or interior design industries, Houzz is an excellent platform to get on. It allows you to connect with potential clients in a whole new way – by showcasing your work on a platform they're already on as they seek to create their dream spaces.
Maintaining an active presence on Houzz allows you to market yourself as an expert in your industry and gain a following much larger than your local demographic. Houzz isn't just another social media platform; it's a new opportunity for community building (i.e. brand building).
If adding another online platform to your repertoire seems like too much, Seapoint Digital can help you set up your profiles and help you find ways to showcase your business in the best possible way.