My Matterport journey began on an early morning in May 2017. With butterflies in my stomach, I armed myself with a positive attitude and Seapoint's first Matterport camera. Together we tackled my very first solo Matterport shoot: a spacious lakefront home deep in the Barrington, New Hampshire forest.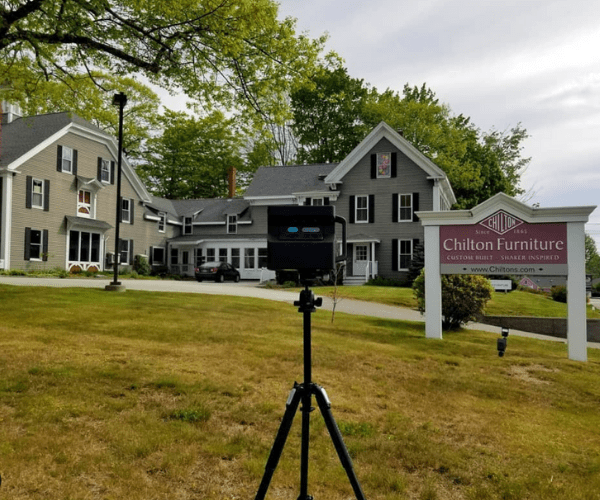 In May 2020, I again woke up with butterflies in my stomach. I was on the road before sunrise, on my way to Chilton Furniture in Freeport, Maine: a specialty, handcrafted wood furniture showroom. It was our largest tour to date, our first retail store, and we were excited to land the contract because of a referral from another happy client.
Ah, 2020: It's funny how quickly things can change. The Coronavirus hit us so fast and with such force, none of us expected the impact it would have on our lives. Looking back, it's strange to think that during the first week of January, Gretchen and I personally visited several real estate offices,  delivering donuts, shaking hands, and promoting our services. We were working hard to expand our clientele for the coming year. If only we had known how busy the year would end up being. It blew away our expectations in every way.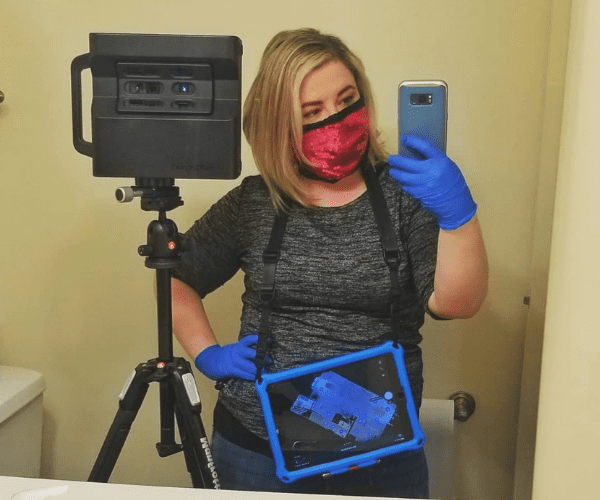 Virtual tours have always been a powerful tool for selling homes. Still, once the virus hit, realtors and businesses were forced to find new ways to help their homes and products sell. Matterport tours became the answer. 
This year, our Matterport tour bookings tripled from the previous year. Some weeks were so busy that I was personally taking care of 3 or 4 shoots per day. 
Breaking Records with the Largest Matterports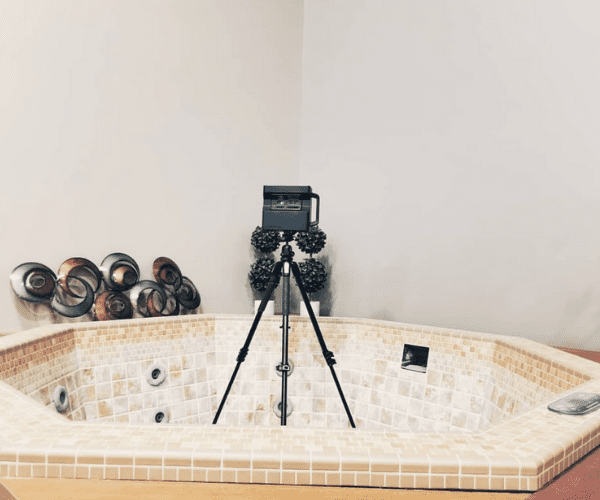 Very early on in the outbreak, it became apparent that our focus would take a necessary shift to retail stores and other businesses. With store closures, occupancy limits, and the public's general fear, some retailers were forced to get creative in order to survive. By using a virtual tour, business owners created an online space for customers to shop. In a tour, a customer could virtually walk through the store, click on any (tagged) product, examine it in VR, and select the link to purchase online. It felt like shopping in person… well, as close as we could get during a pandemic.
In April we captured a tour for Chilton Furniture (mentioned before) and in May created a tour for Mainely Tubs, an enormous hot tub showroom in Scarborough. 
By October, we had lined up the largest job we've ever had (and quite possibly one of the largest Matterports ever captured), Jordan's Furniture in South Portland, Maine. To tackle the 110,000 square foot space, we created 16 different tours over two days.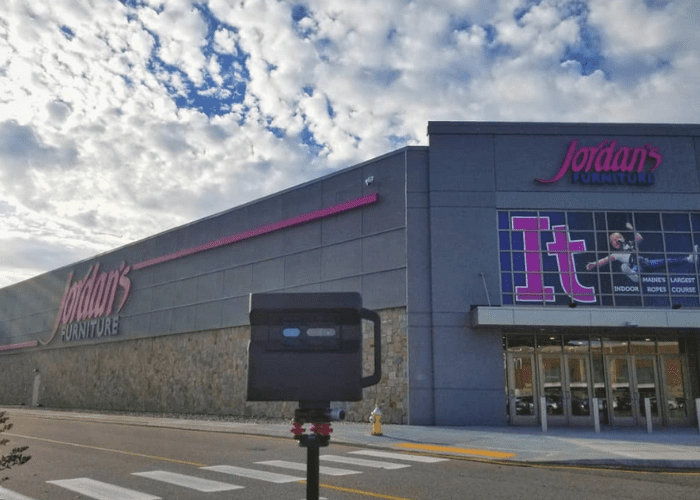 One of the biggest challenges in capturing the massive showroom was navigating their 2-story ropes course and zip line, where the ceiling is covered in mirrors and LED color-changing screens (the largest in North America). Since Foster (our affectionately-named Matterport camera) operates with GPS signal, moving objects, mirrors, and bright lights can cause the tracking to get lost, resulting in multiple processing errors. But with patience (over 11 hours!), persistence, and a wonderful crew at Jordan's, we pulled off the feat … and the results are breathtaking.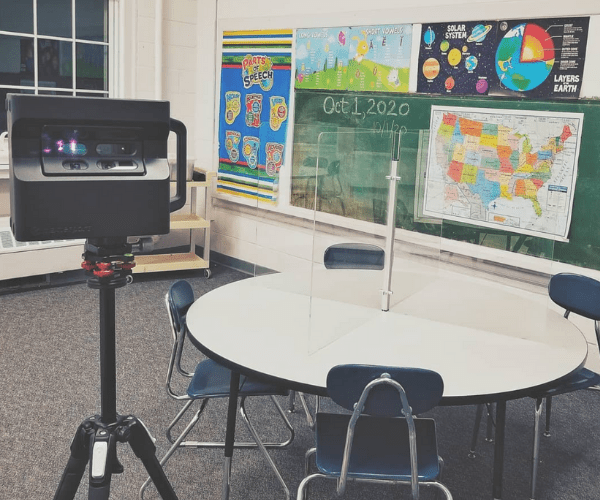 We were also happy to work with the town of Kittery, Maine to capture the largest single tour we've done: the Kittery Community Center. This building used to be an elementary school and now serves as a multipurpose community center that supports various programs. This massive 50,000 square foot space contains a gymnasium with a balcony walking track, fitness center, theater, art gallery, child care center, and more! 
The directors are using the tour as a tool to demonstrate safety and security protocols (like fire escape routes) throughout the building.
When the lockdown occurred in March, real estate open houses suddenly became impossible to accomplish. That's when many realtors wisely pivoted to online open houses, taking advantage of VR tour technology. The Boston Globe interviewed one of our clients, Realtor Bill Patterson, and in turn, our own agency. We were thrilled to have our virtual tours, and our CEO Bill Cutrer featured in the article. The weeks following the publication of this article were our busiest all year.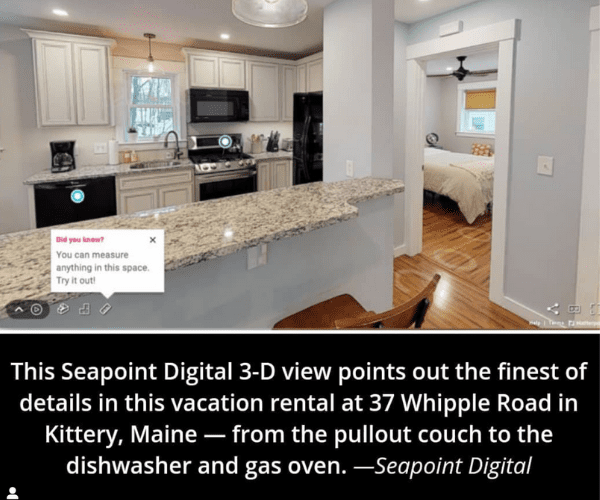 Museums, Libraries, and Theaters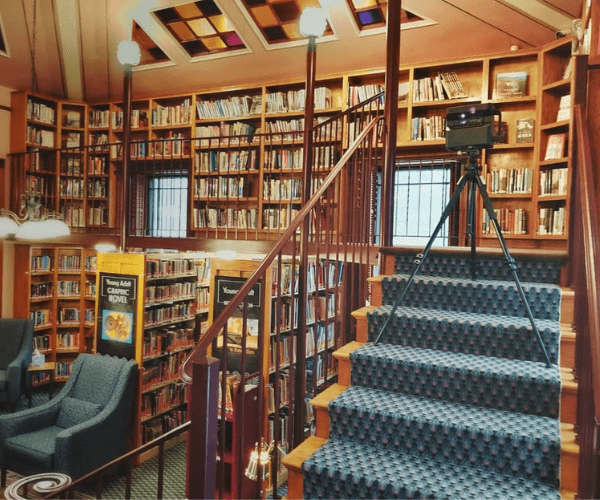 Our first Matterport of the year was the Rice Library in Kittery, Maine. The Rice Library is a 4-story historic building. Back in 2015, we captured the space with our first Matterport camera, and wanted to re-shoot it with the Pro2 3D camera. We loved the results.
In June, I was able to visit the Kittery Historical Museum and capture a tour. This small museum is packed with interesting stories from our Seacoast Maine town. Our camera, Foster, was also happy to learn about his namesake, Fort Foster, and the history surrounding it. 
We also shot our first performing arts center this year: the STAR Theater, inside the sprawling Kittery Community Center.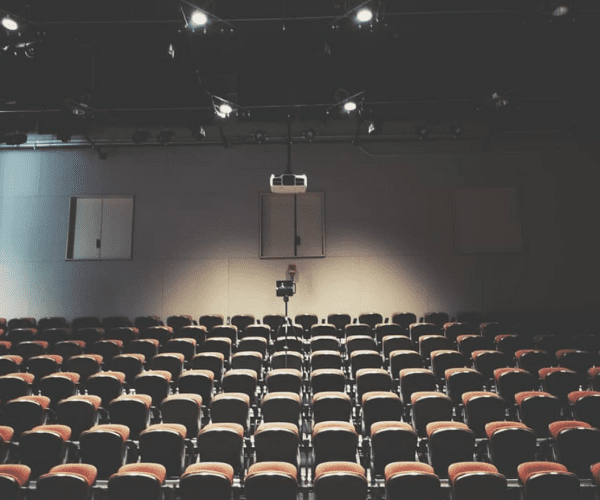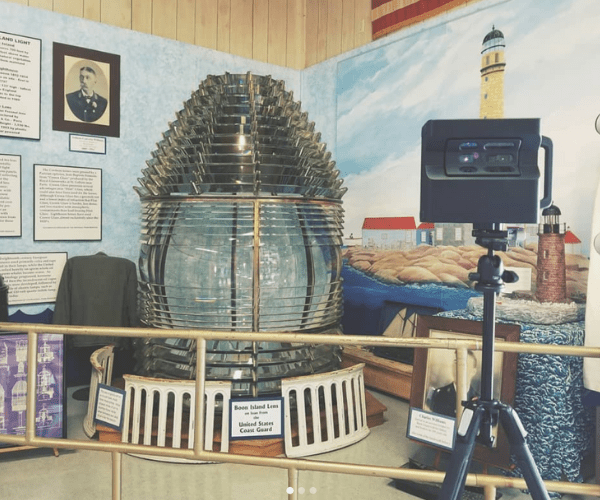 What better way to end a successful year than to expand? Our team down in Atlanta, Georgia joined us in the VR tour world in providing Matterport services. They named their camera "Springer" after Springer Mountain in Georgia. Springer Mountain begins a 2,000+ mile trek that ends at Maine's Mount Katahdin; a little walk you may know as the Appalachian Trail. It's a fitting name that connects our two teams.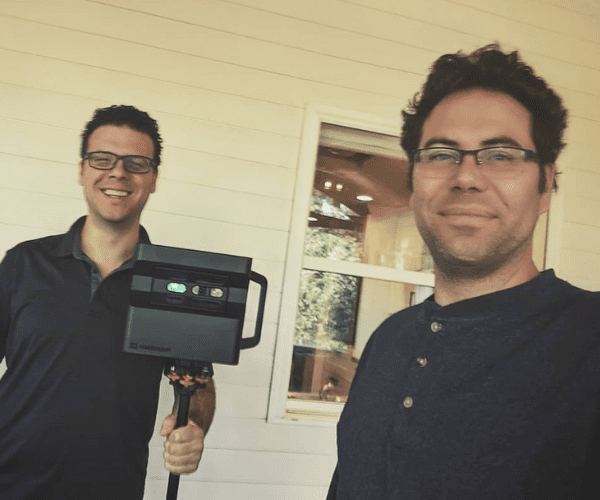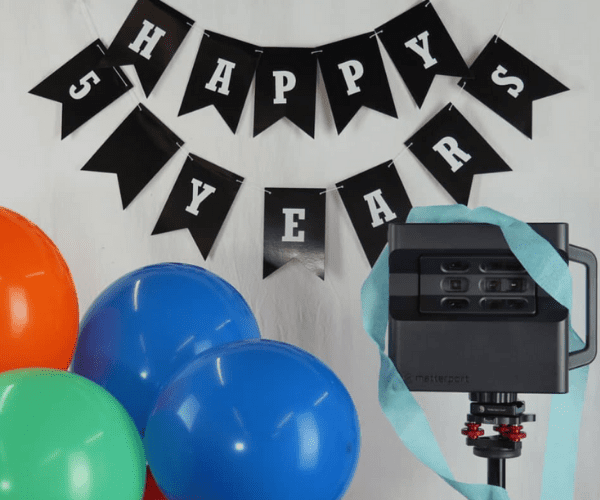 On December 1st, we and Foster celebrated our FIFTH anniversary of offering Matterport services. We're proud to have been the first Matterport Service Provider in northern New England, capturing hundreds of virtual tours in these past 5 years.
The Challenges and Triumphs Through COVID-19
It was strange to be out and about as an essential worker during the pandemic. I remember one trip in particular; April 2nd, and I was on my way to Boston via Route 1. Normally a trip that requires navigating through heavy traffic, this morning was eerie. I remember thinking, "I could skateboard down this highway today." Once I arrived in Boston, I parked my car on Commonwealth Avenue and stared down the empty street. There was no one around. It was bizarre, to say the least.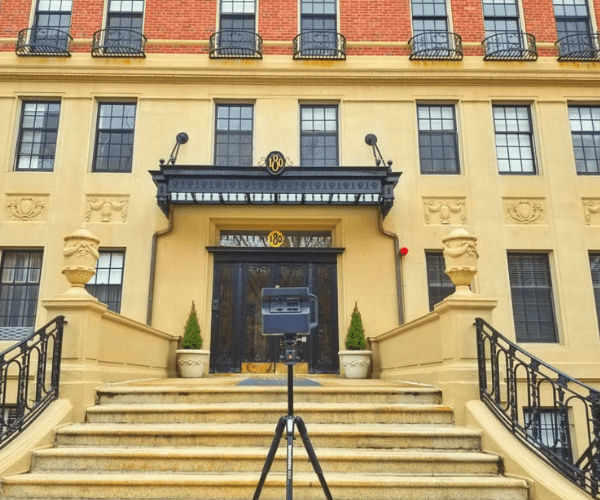 Knowing the importance of safety, our team stays equipped with masks and gloves, hand sanitizer, surface sanitizer, and lots of water.  Taking the time to sanitize everything we touch has been time consuming and tiring, but we've had a safe year, and are glad to keep our clients safe as well.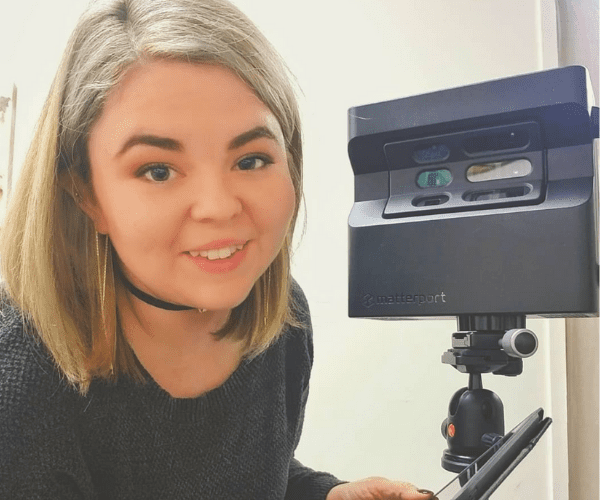 We all know that this year has been incredibly hard for most of us. But at Seapoint, we have also found it to be so rewarding and exciting. Though it may sound patronizing, I'll say from my heart: we have the most wonderful clients. We're honored to have so many repeat clients who appreciate our good service and quality product, and we're excitedly looking forward to the coming year and what it brings!
Whether you're a realtor, business owner, or are in another field, if you are wondering what a Matterport Tour can do for you, please reach out to me! I would love to have a conversation with you. Together, we'll talk about how Seapoint can help you use your VR tour to help your business grow and thrive in the coming year, and for years to come! 
We would love to talk to you about scheduling a Matterport for your business!
Fill out the form below and we'll be in touch.