Isn't technology amazing? Twenty years ago, who would have guessed that we would be able to video chat with friends across the world in high-definition – and not pay by the minute for the service? Back then, many of us didn't have a cell phone, much less a smartphone; and most of us connected to the internet each evening, listening to the staticky tune of a dial-up modem.
Now, wherever we happen to be, if we need any scrap of information, the answer is just a few fingertaps away on our smartphones. Is the Asian restaurant downtown open till 10? Has Hugh Jackman really been happily married for over 23 years? Can I see what the interior of that house for sale looks like?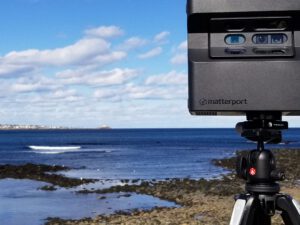 In case you're wondering, the answers are:
Yes, and the Pad Thai is delicious;
Yes, and his beautiful wife is ten years older than he; and
Yes – in fact, you can now take a virtual reality tour of the inside … and it's just like you're walking through the home in real life.
You may have heard us talk about Matterport virtual reality tours in the past, but today we hope to answer a few of your questions about what it is and how it can work for you; whether you're a real estate agent, the owner of a hotel or vacation rental property, or even a small business owner.
Matterport Virtual Reality Tour FAQs
Question: What is a Matterport VR tour? 
Answer: Matterport uses a technology that allows us to capture 3D images of your property. Viewers are able to see up, down, and all-around right from the comfort of their own sofa. The Matterport has 9 cameras and spins to take each shot. The complete tour gives viewers a real sense of being inside of your property in a real 3D experience.
Question: Who should use Matterport?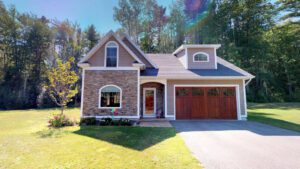 Answer: An obvious answer is Realtors. If you're relying on old-fashioned For Sale signs, or the occasional open house, Matterport will open up a whole new world for you.
Potential renters can get a full sense of what it will be like to stay with you.
In addition, home builders, architects, and designers, and business owners and homeowners all benefit from Matterport's 3D technology. Matterport is also great for rental properties, Airbnb / VRBO properties, and hotels.
Question: I'm a real estate agent. How do I use it?
Answer: Think of Matterport as your 24/7 open house service. When we capture a 360-degree 3D view of the home you're selling, inside and out. You will be able to post that virtual tour on your website or social media. You can share it with anyone to view the tour. There's no special software needed.
This means fewer wasted showings, and happier buyers and sellers!
Question: How can Matterport be used to marketing rental properties, Airbnb, VRBO, and hotels?
Answer: With Matterport, visitors can explore your property like they just stepped inside before they've even left their homes. A virtual tour can be the determining factor in their decision to book!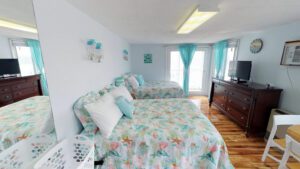 Question: You mentioned I can use Matterport if I'm a home builder, architect or designer, or homeowner. How does that work?
Answer: Matterport is particularly useful if you are a home builder that frequently builds for out-of-town owners. Imagine being able to not just snap a photo of the construction progress, but share a link to a virtual tour! This kind of transparency builds trust and keeps lines of communication flowing, lessening misunderstandings.
Architects and designers use Matterport to enhance their portfolio. Instead of displaying flat, one-dimensional images of your past work, this virtual reality technology allows your prospects to explore every corner of your fantastic design.
As a homeowner, you can use Matterport to capture the entire contents of your home and document it for insurance purposes. Should disaster ever strike, you'll have a detailed visual of the contents of your home.
Question: How can Matterport be used to market a local business?
Answer: Google Maps integration lets customers step from the street – right inside your business. Using a VR tour as the touchstone for a remodel project or have an accurate record for insurance purposes.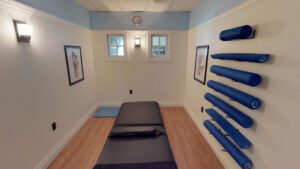 Question: Is a Matterport Tour expensive?
Answer: You choose a plan that works for you. We can start with a basic tour, which includes a virtual tour of the home, 360 photos, and still photos which is charged by the square footage of the space. You have the option to add on floor plans for an additional $65.
Question: How else can I use my Matterport tour?
Answer: Matterport can be promoted in many ways on various social media platforms! Check out a blog we wrote on this here Matterport Tools for Social Media Marketing.
In short, Matterport is cutting-edge technology that helps you make a sale faster, document important property contents, and communicate better with your clients using virtual reality technology.
If you have more questions about our VR Tours, we'd be happy to talk with you one-on-one!