You took the leap and invested in a Matterport Virtual Real Estate Tour to help sell your listing in NH, ME, or MA. Good for you! We know from experience, and it seems you do too, that Matterport Virtual Tours go a long way in helping real estate agents to sell more homes in less time.
When you receive the virtual tour from Seapoint Digital, you received some other media files in your package that you may not be sure how to use. These include still photos,  360° photos, preview videos, and GIFs. In this blog, you will learn what these add-ons are and how you can use them to help market your listings.
How to Use Your Virtual Tour and Still Photos
In addition to uploading your Virtual Tour and photos to the MLS, you can share them to social media to increase exposure for your listings.
To share to Instagram or Pinterest, just upload an image with a description of the listing (and include appropriate hashtags.)
Pinterest will give you the option to add a URL so when the viewer sees the pin, they will click on the photo be sent straight to your virtual tour.
In order to promote on Instagram, just paste the URL into your profile bio, then mention in your post that the link to the tour is in your profile. (You won't want to add the link in the post because Instagram does not allow these to be clickable.)
Adding your tour to your Facebook page or Twitter is a little less complex. Just add the URL to a post, and a preview image will appear. Then add your description, hashtags, and call to action.
We've seen some realtors use these social media posts to great success by hosting a "Virtual Open House." After posting the Matterport Tour, they hold a contest – to enter, viewers see the tour, comment on the post, and share it with others! A winner of a small prize, like a gift card, is selected at random from those who share the post.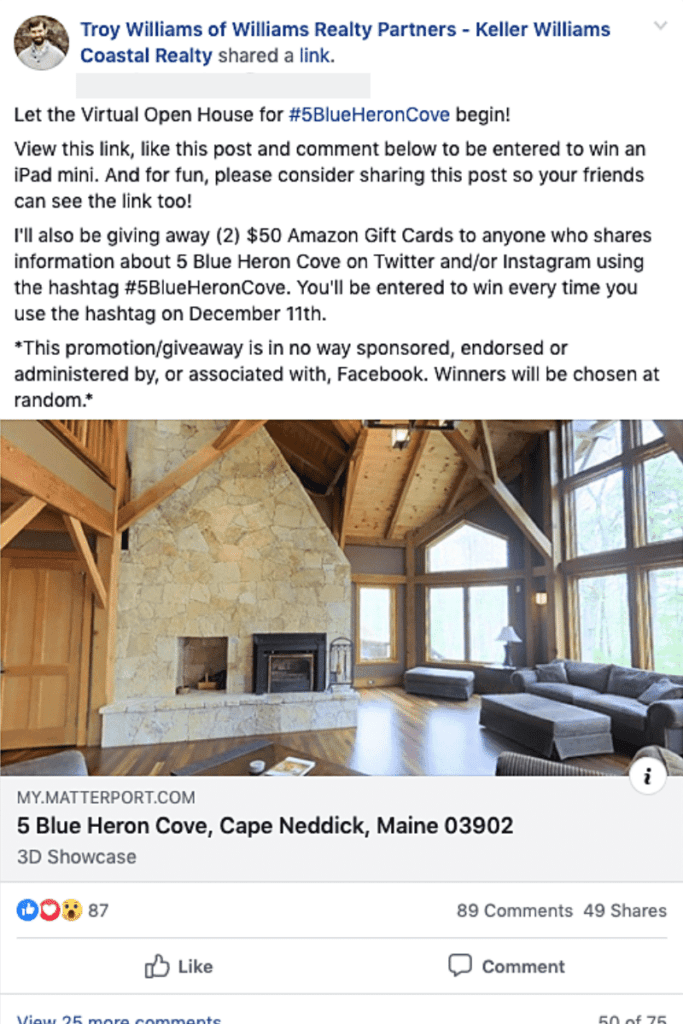 Getting to Know 360° Photos
When you receive your media files along with your tour, you will likely receive a few 360° photos. On occasion, our clients receive these photos and are frustrated, feeling that something is wrong because they look warped. The good news is: they're supposed to look warped (see our header image for an example!) When viewed in two-dimensional form, the 360° photos are stretched and distorted-looking. But once they are uploaded to the proper social media platform, they become three-dimensional and delightfully interactive.
Here's one way we love to use the 360° photos: a fun, interactive post on Facebook.  First, upload the 360° photo, then choose the starting point, then add a description for the post. You can also add the URL to the virtual tour as we did in our example here, or you can use these photos as teasers to promote homes that will be coming soon!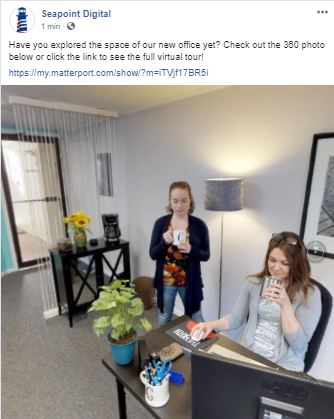 See Success with MP4 Videos
You will receive two MP4 videos along with your real estate tour. The first one is about 5-10 seconds long and the other is about 10-15 seconds long. These are pan-in and pan-out videos that zoom from a room view then expand to show the dollhouse view of the home. These are great to upload to social media platforms to share your listing in an exciting and engaging way. You can upload these videos on Facebook, Pinterest, Instagram, Snapchat or YouTube. LinkedIn also supports MP4 videos, and if the clip is less than 15 seconds it will auto-play and loop, just like an animated GIF.

Unleash the Power of GIFs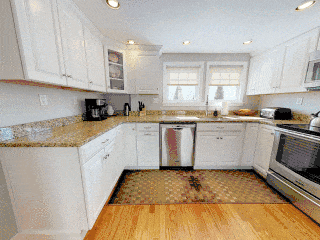 GIFs are another great way to draw interest to your Matterport real estate tour. They are similar to the MP4 videos we mentioned above but are lower resolution, so they load faster and play instantly – this makes them very eye-catching. They are especially powerful on Twitter, since this platform allows you to upload GIFs directly. Facebook does not support uploading a GIF directly but you can upload it to a site like Giphy or Screencast, then paste the URL into your Facebook post. Animated GIFs can be up to 5MB when uploaded from mobile, and up to 15MB from the web.
Your Partner in Real Estate Success!
As you can see, Matterport gives you many tools to help you market your listings online. If you have more questions about using the media package, let us know; we're happy to help you. If you have yet to schedule your own Matterport virtual tour or if you have more questions about how to utilize Matterport VR Tours to sell more homes in less time, fill out the form below and we'll reach out. We happily travel to Seacoast NH, Southern Maine, and Northern Massachusetts to capture real estate virtual tours for you!
Reach out to us! We're here to help you succeed.