In recent years, numerous companies have faced challenging times, grappling with revenue losses and, unfortunately, some have even had to shutter their operations entirely. At Seapoint Digital, we wholeheartedly embrace our mission of guiding these businesses towards innovative solutions that set them apart from their competitors. Our team constantly explores fresh, inventive strategies to help clients reach their prospective audiences.
Can your revenue thrive in a landscape where your prospect list is dwindling, and the market seems saturated? We faced that question with one of our affinity clients in 2022.
The results may surprise you.
Our Client
The Texas Medical Association Insurance Trust (TMAIT) is a full-service insurance agency created by the Texas Medical Association, the largest state medical society in the US. For decades, TMAIT has been marketing insurance products exclusively to the 50,000 Texas physicians who are already members of the Texas Medical Association.
The COVID-19 pandemic caused several changes for the physicians that TMAIT cares for. Because of these changes, our pool of marketable contacts diminished. This caused us to look more closely at how we could most effectively reach those physicians who needed to secure their own health insurance and do so in a way that was different from what other insurance companies were doing.
Seizing the Opportunity
Prior to the 2021/2022 Open Enrollment period, we analyzed TMAIT's group health business. We discovered that a large subset of physicians were securing their group health insurance outside of Open Enrollment.
We saw this as an opportunity to:
Increase their awareness of TMAIT's group health services throughout the year, not just during Open Enrollment.
Serve the small practice owner and independent physician members who were underserved by agents and brokers.

Due to our successful marketing of group health during the November/December 2021 Open Enrollment period, and the fact that group health can be purchased all year long, the program's objective was to expand our marketing of group health insurance to increase lead generation and sales throughout 2022.
Overcoming Challenges
Our goal of expanding the marketing of TMAIT's group health policies was far from smooth sailing. We were met with several challenges.
The threat of severe illness and lack of patients to treat due to the COVID-19 pandemic caused many smaller practices to close, older practice owners to retire, and pushed others to become employees in healthcare systems where they received benefits. Many independent physicians who would be searching for health insurance worked at hospitals and would, therefore, be hard to identify in our database.
Group health insurance is a commodity product. The same products and carriers are represented by competing agents and brokers, whom most physicians already had relationships with. We needed to find a way to differentiate TMAIT by offering more value than our competitors.
Physicians have extremely demanding schedules. Many practice owners succumb to inertia because researching and switching to a different policy is more difficult than simply renewing their current one. We had to reach and convince practice owners who needed group health insurance of our value, and prove it would be worth their time and effort to request a quote.
Members expect to receive discounts from their association. However, there is no discount we can offer on small group ACA health insurance. Our marketing needed to motivate our members to take action while managing email opt-outs, so our prospect list wouldn't shrink even further.
Physicians prefer PPO health insurance. Individual PPO coverage is not available in Texas, so most of these physicians think their only option is an individual HMO.
The Solution
We addressed these challenges with a multi-faceted approach designed to help our audience find us and receive the best coverage they were eligible for.
Identify Our Marketable Universe

First, we identified the total number of physicians in our database who were solo practitioners or partners in a small practice who needed to secure their own health insurance. We then narrowed the list down to those with an email address. That list was reduced further to only those who were engaged with our emails, also excluding any bounced emails. Ultimately, our prospect list was reduced to only 8% of our total contacts.

Offer More Value

Our research uncovered additional special options that independent physicians, small practice owners, and partners may be eligible for all year. These special options gave them access to group PPO coverage, even if they had no employees. This discovery allowed us to differentiate ourselves from the competition. Other agents did not market these special options because they represented a more complicated, and typically smaller, sale.
Build Impressions Through Multiple Touchpoints

Our analysis showed that the decision to request a quote was not linear and required multiple impressions to motivate prospects to request a quote. The majority of our marketing was to take place online. We needed to supplement email by finding additional ways to reach our primary audience of small practice owners and independents. The objective was to build multiple impressions with targeted physicians without increasing opt-outs while controlling total costs and managing the cost per lead.
The 2022 Lead Generation Campaign
Our marketing campaign was designed to maximize lead generation and consisted of numerous marketing components that ran throughout the year. All communications were designed to generate leads, move prospects through the sales funnel and reinforce the relationship to retain their business. We also leveraged the Association's network to reach more prospects, increase impressions and generate leads.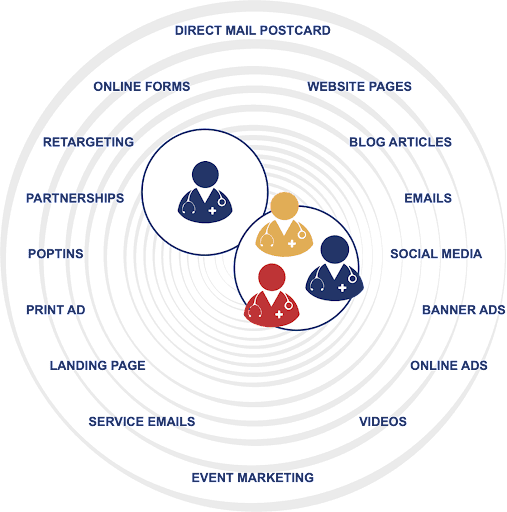 Our year-long, multi-faceted approach included:
Website: Our site experience was highly customized for our target audience and whether the physician visited the site during Open Enrollment or outside of that period. To preserve prospective leads, when a site visitor wanted to leave the site, we employed a pre-abandon pop-up with a submission form providing one more opportunity for interested physicians to request a group health quote. By incorporating this "second chance" outreach into our site experience, we converted 118 pre-abandons into 118 leads. We also used retargeting emails to re-engage those who abandoned a health insurance page on the site. These emails proved to be effective. For example, small practice owners who received a retargeting email during open enrollment had an open rate of 34.2%.
Email: Our lead generation emails informed practice owners and independents that they could access group PPO health insurance, even without employees. We showed respect for their lack of time by purposefully crafting content to be read quickly and easily. These emails were linked to our blogs for more details.

Blogs: Throughout the year, blog articles targeted practice owners and independents interested in acquiring group PPO health insurance without employees. These articles used clear messaging in the headline to quickly convey our benefit to targeted physicians. Importantly, these articles were keyword-rich, so even physicians we could not reach through email could be "pulled" to our site to generate leads. Emails and banner ads drove to these blogs so the complexities of the special options could be explained. By outlining the eligibility criteria in these articles, we were able to drive higher-quality leads to our client.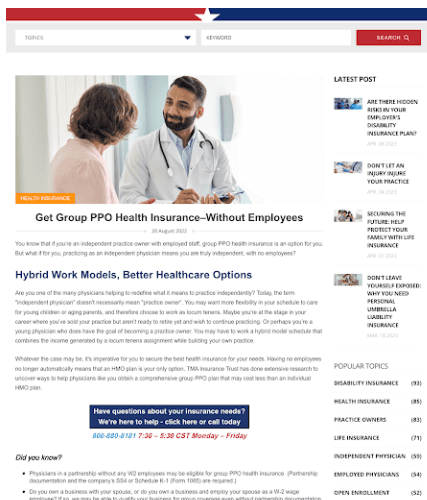 TMA & County Advertising: With an identifiable and marketable email list of only 8% of our total contacts, we expanded our campaign to include marketing opportunities available through the parent association (TMA) and the county medical societies (CMS). This included ad placements in their online and offline publications (newsletters and magazines) and on their websites. The CMS also allowed us to send co-branded emails to the members. This helped us reach members who engaged with their county medical society but did not engage with our emails.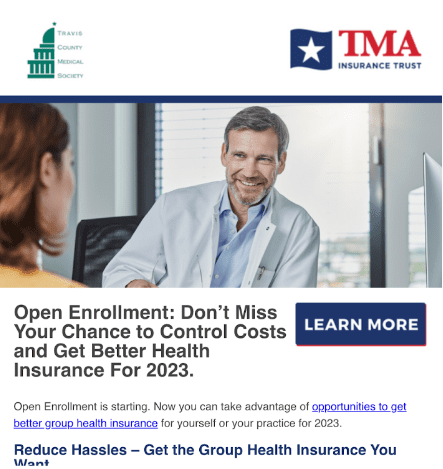 Online Ads & Social Posts: We expanded our reach with social posts placed across the Association, and ads placed in the Google network that took advantage of the network's targeting capabilities to reach our target physicians. Wherever possible, we embedded a simple form so members could easily request a quote without interrupting their online activities.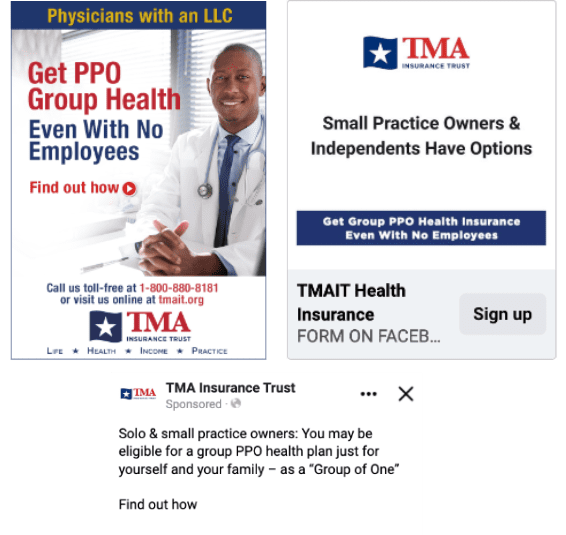 Direct Mail: We understood the majority of our target audience of small practice owners and independents could not be reached via email. To overcome this, we included a direct mail postcard to ensure we reached them with our message.
Landing Pages: Physicians have limited time and may be deterred by lengthy text. To combat this, we developed a concise video that explained the special options and the qualifying criteria needed to take advantage of them to secure group PPO insurance. This made it more convenient for prospects to understand the details, and the significantly shortened copy made the landing page more approachable and appealing when they clicked into it.

2022/2023 Open Enrollment
We reworked our lead generation content for the 2022/2023 Open Enrollment (OE) campaign to continue to reach our underserved key audience of small practice owners and independents.
First, we reintroduced the two available OE group waivers that could help practice owners manage the cost of offering group health insurance benefits to their employees while getting better coverage for themselves.
Second, we continued to promote the special options that could help independents without employees to bypass the standard criteria for group health insurance eligibility. Marketing components mirrored those utilized during our campaign throughout 2022, but with adjusted OE messaging (emails, blogs, website pages, video, social media posts, website pop-ups, print and online ads). The TMAIT website was modified to support our Open Enrollment campaign. Target audiences had their own sections, so messaging and coverage options were made relevant to their needs in order to optimize lead generation.
The Results
Did our plan work? Were we really able to help TMAIT grow its revenue despite the challenges? Let's look at the data.
We began with a marketable & identifiable universe of 5,839 prospects. We ended the year by generating a total of 1,441 group health insurance leads.
Of the total leads, 511 were generated by expanding our group health marketing beyond open enrollment. This represented 35.5% of the total leads generated for 2022. An additional 235 leads for ancillary health insurance products (Medicare Supplement, Dental, etc.) were generated during our Open Enrollment campaign.
25% of our client's total annual premiums were generated by promoting group health special options outside of OE.
In an already competitive and shrinking market, we saw a 12.3% increase in the number of group sales compared to the previous year.
Through our physician-centric marketing and our client's superior customer service, they increased their retention rate to 94.9%.
For more information on how Seapoint can help you achieve these kinds of results for your business, click below to set up a free consultation.