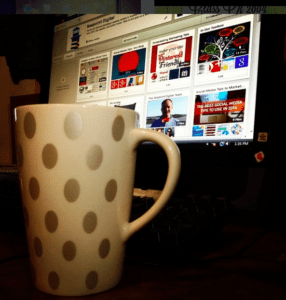 How long have you been using Instagram to share your photos? We posted our first photo when the app came out in 2012. I scrolled all the way back to find this dark photo of a mug and our Pinterest page. It got a whopping five likes. It was a pretty good number at the time.
Instagram's capabilities were pretty limited in those days. Even the use of hashtags was not available initially. I remember getting eight likes on one of my personal photos and feeling like I must be a professional at social media. (I wasn't.)
Instagram has changed in many ways in the past eight years and the way you need to engage with other users has changed too. If you're not familiar with and keeping up with these changes, you may remain at that five-like status forever. Whether you are looking to get more likes, more followers, or more engagement – we're here to help! Here are four tips for success with Instagram.
Instagram Tip #1: Insta-Fame Doesn't Happen Overnight (Unless You're Already Famous)
Are you fresh off the set of the Bachelor? Then you're probably not suddenly hauling in thousands of likes per post and hundreds of new followers every day. This might seem like an obvious statement; success doesn't happen overnight, and neither does Insta-fame (despite its title). So, whether you've just started an Instagram account or have had one for years, don't give up if you're not seeing the results that you want. Success doesn't happen right away, but it's possible; you just need to adjust your strategy to attain the desired result.
So, at this point, sit down and ask yourself: What's my desired result?  Do you want more followers? More likes or comments? More traffic to your website? A better overall impression of your brand?
Whatever your goal is, there are marketable ways to achieve that goal. If you are really serious about building engagement to your account – either for a personal page or a business account – write out your plan and keep track of what you're doing.
Instagram Tip #2: Edit and Filter
Let's do a quick experiment. Which of the photos below are you more likely to stop an extra second and look at? Like? Comment on? Why?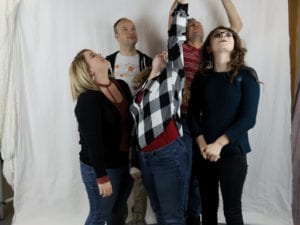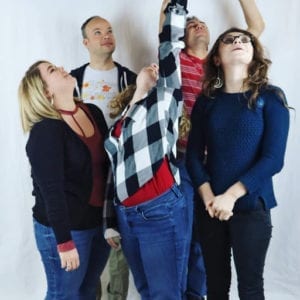 We are naturally drawn towards brighter, more striking photos. Maybe your editing style isn't quite like this, but you get the idea. Photos with people in them, especially people that your followers have come to know, get more engagement than photos of anything else. We have a joke in our office that when our engagement is down we need to post photos of Bill. Posts of Bill's face get the highest engagement of anything else we post. Why? Because Bill is the CEO of our company. Our followers have come to know his face and personality well. They have followed Seapoint's journey, but as the founder of the company, his journey has been the longest!
What's your takeaway?
Post photos of what you know, and educate your audience.
Post photos of what you're passionate about, and let that shine through your photos!
Post quality photos that are edited correctly.
You can use the filters that come with the Instagram app, or you can download photo editing apps to make your photos shine. Maybe you're not an expert at editing photos. That's okay. There's an app for that. Add a filter that enhances the photo you've taken, and tweak it to your liking. If a filter doesn't bring you the results you want, try editing the specs on the photo manually; sometimes bringing up the shadows and sharpening the photo brings more dynamic results than a preset filter.
And just so you know, here are some of our favorite Instagram editing apps:
Pro tip: Although good quality photos don't need a whole lot of filters, they might need editing to make them shine the extra mile.
Instagram Tip #3: #UseHashtagsThatAreRelevant and Beware the Shadowban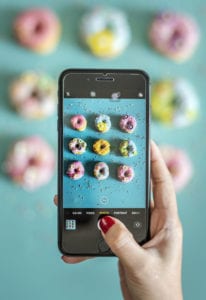 Hashtags can be like a key that opens the gate to the rest of the world, letting everyone know how awesome your company is.
But we have a warning… beware the shadowban. Maybe that sounds scary. And according to some sources, it isn't real. Another portion of the internet says it is. So… what's a shadowban?  An account that is shadowbanned on Instagram has posts that do not appear on anyone's feed unless that user already follows you. shadowbanning blocks a user's content, but the user usually doesn't know that it's happening. The shadowban is the mysterious (but unproven) idea that Instagram can punish you if you abuse hashtags or Instagram's rules. Why would they do that? Well, because spamming people is annoying.
So how would you know if you're abusing hashtags?
You are using banned hashtags. Didn't realize there were banned hashtags? Yeah, neither did I. But if you Google what they are, you will find a large list.
You are using too many hashtags. Instagram has a limit of 30 hashtags per post. However, they don't like when you continually use the maximum limit. Using about 10-15 hashtags per post should keep you safe.
You've been posting, commenting, or following people too quickly. Are you a robot? Are you acting like one? Instagram can't tell and doesn't like that. Engage regularly and sincerely with other users.
You use the same hashtags over and over. Again, are you engaging with us or spamming us? Instagram may think so; so switch up your hashtags.
In other words, don't use hashtags just to use them; use them with a purpose. Make sure the hashtags you use are on-brand, relevant to the photo that you're posting, and will attract the kind of followers that you really want. Quality followers will stay, and they'll engage with your posts as well.
Instagram Tip #4: Follow and Be Followed
Unless you are a large company, chances are people aren't searching for you on Instagram. So, what's the solution to not having enough followers? Simply put: get out there and find them.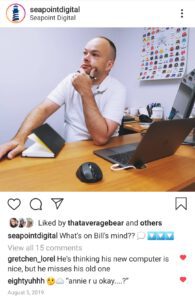 Are you trying to find local customers? Is your ideal customer in a particular lifestyle bracket (i.e. married, living on the coast, into fitness)?
Whatever your perfect follower base is, get out your smartphone or tablet, launch Instagram, and search for those types of people. Now, when you find them, don't just follow them. Interact with them. Think about yourself; are you more likely to check out someone who just follows you randomly, or someone who follows you, then likes and comments on your content? Find your fans, and become their fans. Sooner or later, chances are they'll reciprocate the love and join you on your profile.
So start snapping photos. Apply the four tips we shared, keep your chin up, and keep posting. And hey, while you're on Instagram … why don't you give us a follow?
Have more questions about digital marketing? We'd love to talk with you. Fill out the form and a member of the team will be in touch.