If you're in the construction business, you likely know that one of your biggest barriers to signing new prospects is credibility. Sadly, too many sketchy contractors have depleted the faith of many homeowners and business owners.
As a result, you may face prejudice as a result of tardy, over-budget contractors that have spawned running jokes about the credibility of almost anyone in construction. And although word-of-mouth marketing remains a mainstay of any contractor's livelihood, it is absolutely possible to convert cold contacts into satisfied customers that generate revenue for your company.
How can you do this successfully? Through careful and deliberate use of digital marketing tactics.
Is Digital Marketing Right for Contractors?
You may be wondering if digital marketing is really worth the investment. After all, is someone really going to sign on the dotted line after seeing the deck you built posted on Instagram? It's not likely.
However, think about the last item you purchased. Maybe it was a shiny new sliding compound miter saw. Did you buy it because you saw a picture of it in an ad? Perhaps. But, more likely, you did some research on it, you learned about its capabilities, and you may even have watched a video about it. Or, you may already own tools made by that brand, and so your confidence in this saw was already built up.
Similarly, you, as a contractor, need to educate your prospects regarding your capabilities, your credibility, and your brand (yes, you have a brand).
Let's talk about how you can do that using digital, or inbound, marketing.
Digital Marketing for Contractors
When many contractors think about digital marketing, they may assume it's just about posting to social media or running a few ads on Google. And while those are some basic things any business can do, we really want to drill down on some specific tactics that will make your marketing strategy a success.
1. Blogging
Blogging is intrinsic to any inbound marketing strategy. It does so much more than just filling space on your website.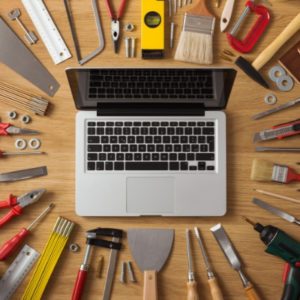 Blogging will:
Give you an opportunity to showcase your expertise
Provide search engines more pages to crawl so that you can be found in web searches
Allow you an organic spot to place a Call-to-Action, or CTA (schedule a free estimate, etc.)
Display your images and allow your readers to pin them to Pinterest (extending the life of your post)
Here are a few trade secrets when it comes to blogging:
Include keywords in your title and subheadings, but don't stuff your post full of them. Think of the words people might search for when trying to find what you do.
Always include at least one image.
Use social sharing buttons so readers can spread the word for you.
Hire an agency if you don't have the time or know-how to develop a cohesive blogging strategy.
2. YouTube
Are you a master of mitering or a formidable framer? DIY videos allow you to showcase your expertise and your personality, as well as drive traffic back to your site through effective Calls-to-Action.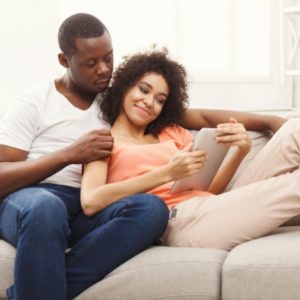 Homeowners want to see who they're hiring, and that you're reputable and trustworthy. So make sure you dress the part during your video. Wear work clothes, but make sure they're not ripped and full of stains, or from 1987. Yeah, that Van Halen tee-shirt is out. Instead, opt for a shirt with your company's logo displayed on it and clean work pants.
Don't forget to add relevant tags to your video description so that viewers can easily find your content.
3. Remarketing
Back when you bought that saw, I'm willing to bet you visited a website, perhaps from one of the big box stores, and a short time later you started seeing that same saw pop up on Facebook ads and in other places on the web.
This is because the store was using remarketing, or retargeting. The good news is that it's not too difficult to do. You'll need to install a Facebook pixel on your website, and a few other things that this helpful article from Hubspot will guide you through.
4. Social Media
I often hear from brands that they don't know where to start when it comes to social media. There are so many options!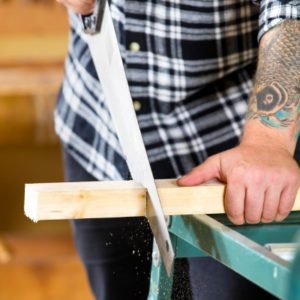 The truth is, you likely don't need Snapchat, Instagram, Facebook, Pinterest, Twitter, and LinkedIn. However, you definitely need some of them.
As a contractor, you are in a very visual business. Who doesn't like before and after pictures? With that in mind, here are some recommendations to get you started on social media that will likely help you grow your audience and your credibility.
Facebook
Facebook is getting in the habit of making brands pay for visibility. That's okay, because you're going to pay them for that visibility when you launch your retargeting ads. Remember to verify your business on Facebook before you proceed with building followers and launching ads.
You also want to keep in mind that your Facebook account isn't only about your brand, it's about educating your prospects. Share tips and relevant info on a regular basis, including those that don't originate with you.
LinkedIn
LinkedIn is your online resume. However, it's more than that. It's a place where previous clients can provide testimonials, further building your credibility.
You should have a company page as well as a personal page.
Instagram
Instagram is where you get to display your personality and your craftsmanship. A little goes a long way, though. Don't even think about spamming feeds with dozens of pictures of your new renovation project.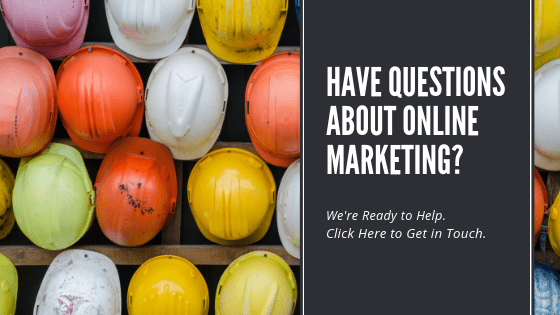 Marketing Tools That Work
Retargeting, social media, blogging, Youtube — these few tips you've learned about will give you a jump start in digital marketing and you'll be well on your way to restoring faith in trustworthy contractors and building your business. At Seapoint Digital, we have helped many contractors, tradesmen, architects, and others in this arena of business succeed in their marketing goals. How can we help you? We'd love to chat with you about making your contractor business succeed.
Reach out to us!