Did you hear? Pantone's has two tones as their 2021 color of the year; (#939597) Ultimate Grey and (#F5DF4D) Illuminating. Why two tones? The choice reflects our hope that 2021 is filled with happiness –– and based on a foundation of strength and security. If you want to work this year's colors into your designs, check out these practical suggestions.
Grey and Yellow: What Works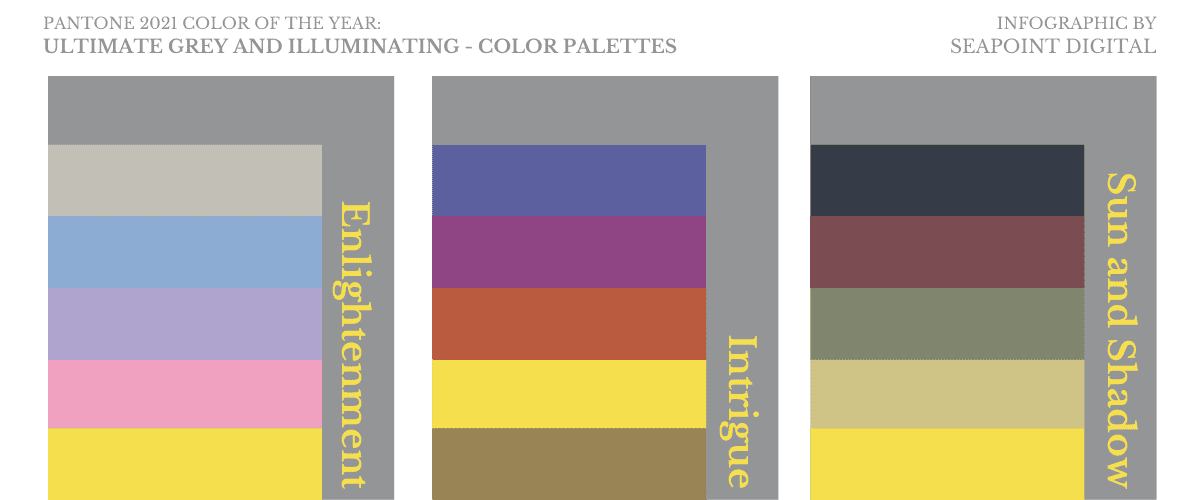 Candied Pastels
The darker neutral of Ultimate Grey and brightness of Illuminating pair wonderfully with pastel tones. Both act as dominant colors, while the complimentary hues in between are somewhat lighter and softer. Pastels have been a popular color trend for a while now, so I absolutely recommend this palette.
Warm Jewels
In this palette, Ultimate Grey and Illuminating stand out as colder options amongst the rich and vibrant jewel-tones. However, the khaki color works well to reign in the spectrum and create a wonderful palette for practical use.
Dark and Muted Shades
Similar to the last palette, Ultimate Grey and Illuminating are the statement colors in this palette. The other shades are harmonious in that they're all muted and bitter, creating a delicious palette reminiscent of fall- but with a pop of winter. Excellent for interior design or even everyday fashion inspiration.
How to Use Ultimate Grey and Illuminating for Your 2021 Designs
Because these tones have symbolic significance as 2021's Color of the Year, one great idea is to incorporate these colors in your business promotions (like Google Ads)! New Years sales are the perfect time to make use of these.
You can incorporate these colors into your social media posts. This way, consumers can subconsciously identify an active promotion from an expired or out-of-season one. Plus, you'll be a step ahead of the trends for your content calendar.
Illuminating is a perfect, eye-catching statement color. So incorporate it into graphic elements that typically demand attention, like headers, banners, pop-ups, bold statement text, or CTA buttons. Ultimate Grey would pair nicely as a background, font color, or accent as well.
Stay Trendy with 2021's Colors of the Year
The unique case of having dual colors for 2021 gives us a variety of design options to explore. The safest way to play with Ultimate Grey and Illuminating is to use the grey for your design's foundation and reserve the yellow for perky accents. 
Embrace modern trends and have fun with your graphic design this year using Ultimate Grey and Illuminating!
Have more questions about making your digital marketing a success? We'd love to talk with you.
Fill out the form and a member of the team will be in touch.