Perhaps your home improvement business has been around for many years, but you're not sure whether the leap into social media would be beneficial. Or maybe you're a relatively new general contractor, and you're not sure whether a social media platform will give you a good return for your investment of time. Whatever your situation, we're here to help you understand why your business (be it plumbing, carpeting, or homebuilding) should be on social media.
Is The Investment Of Time Really Worth It?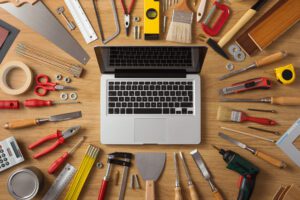 In short: Absolutely.
As long as the content you post relates to the nature of your business, and as long as you use it properly, your business will gradually build an online presence and become more visible to potential customers. This is true if you're taking care of pool maintenance or you're an electrician. When your business is on social media, it will be more visible to people in your community, so you could say it's almost like an alternative form of online advertising.
Would my Business 'Fit In' On Social Media?
Think of a social media channel as a platform, a stage. It's not so much about whether you 'fit in', but about what valuable services you can offer to your audience. So don't be shy, get up there and tell your audience what your business is all about! You replace windows! You're a skilled exterior painter! You waterproof basements! (You get the idea…)
While you're at it, have a little fun by engaging with your customers. When you interact with your followers on social media, you humanize your business – and the importance of this cannot be overstated. The fact is, people are more likely to choose to do business with your company if they are familiar with the people behind it. Just remember to keep it professional and not overly personal.
What Should my Business Post on Social Media?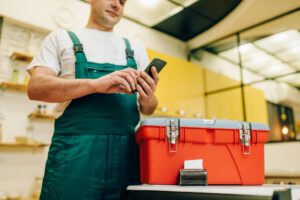 Let's get down to the meat and potatoes: Though your posts may differ depending on what sort of contractor services you provide, here are a few ideas to get you started:
Random acts of kindness

Say "thank you" to your customers/fans

Host a Q&A session related to your services (live chat or even video)

Release your newest product or service

Allow potential customers to see your work in action

Share tips of the trade

Share articles from other non-competing sources (like thisoldhouse.com)
Thinking about this short list will probably give you a few more great ideas. So get started! You will continue to gain an audience as long as you consistently show your business in action.
Who Will See my Social Media Posts?
An important question to consider! It all depends on which social media platform you choose, and how you cater to your target audience. For more information, look out for Part 2 of this blog series, which is entitled: "Which Social Media Platforms Should My Business Choose?" 
Want more help with your social media strategy? We can help! Fill out the form below and we'll be in touch.